Ics and Black Theme. This is a theme i felt that ics should have looked like. This is a theme with upgraded mods and colors from the stock look. Enjoy! Please do not port or steal my theme or mods without asking. Alot of time and hard work went into this in finding all the new ics stuff! Please ask before anything! Thank You!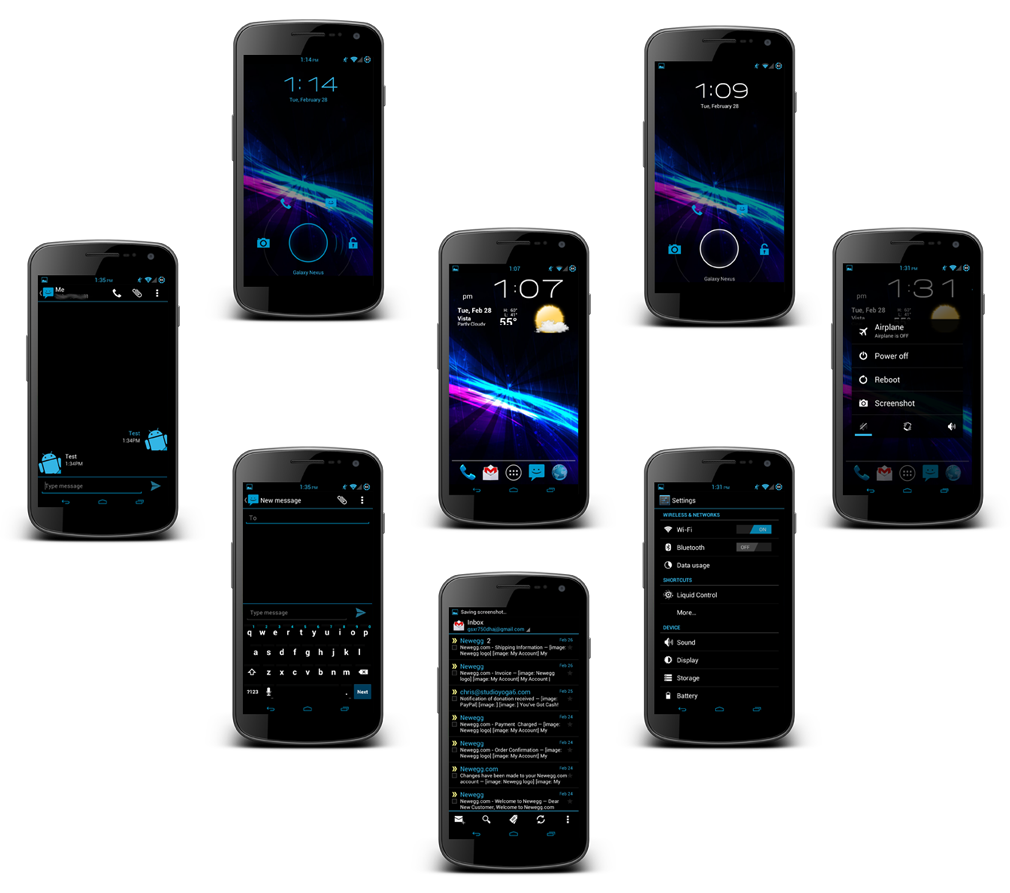 Quote
WHAT IS IN IT
Pop up boxes are black transparent
T9 Dial inverted and blakced out-Trap626 for inverted and me for theming it a little more
Themed Keyboard
Xml edits through out system
Inverted Gmail- Credit to Trap626 for inverting me for adding Ics Blue and theming it more
Inverted Email Ics Blue
Inverted Music
Themed lockscreen
Cented clock on lockscreen
Stat animations for gtalk, mms, market, voicemail, missed call, email, gmail, music
Inverted Gtalk-Travp626 Inverting, me adding Ics blue
Inverted mms
All system widgets are themed
App picket included in theme
Inverted calculator
Aokp Now themed from source with Kernal thanks to imoseyon for letting me put it in the rom
Deleted launcher 2 from Aokp
Brightness hack on all stat icons in status bar, use to be gray now white
Made all status bar icons brighter like batter, wifi, signal, etc
Lots more too much to add right now! Sorry
ENJOY!
Aokp 28
Franko Kernel Milestone. Credit To Fransico For A Great Kernel
4g Icons Are Now Ics Blue Instead Of Gray
True 100% Resolution Jpeg- Credit Theory
Made Ringer Volume Louder! No more Volumn+- Credit Codename For Source
Updated Playstore Again-Credit Trap624 Inverting & Me Stat Animation
Google Reader, Calender, YouTube, Gplus,Google Voice Are Now Include- Big Thanks To Trap624 For Inverting!
Removed Launcher 2
Fixed City Weather And Temp In Notifications From White To Ics Blue
Moved Carrier Name Further Down On Notification List
Updated Nova
1-23-12
Before anyone is asking i did rename some stuff in the rom because it is my test and trial error rom for my future rom. It is gonna be called EVOLUTION and I changed some stuff around in the settings to my likings. If you do not like what I did and want full aokp, then this is not for you, and im sorry. My opion it is very clean and solid so far. THIS ROM WILL LOOK DIFFERENT FROM AOKP BUT STILL IS AOKP WITH AOKP MODS!
Still Rom Overlay
100% Built From Aokp Source. All Credit Goes To Them For A Great Source
New from Milestone 4 Is
Big Overhaul On The Look Of Rom Control
Modified The Images To A Smaller Look, Looks Much Cleaner
Removed All Strings From Headers In Rom Control
It Is Now Named For My Future Rom Evolution
Added Separate Header For Weather
Rearranged Some Stuff In Evolution For Better Belongings To That Area That I Felt
Ring Volume Upgraded. CREDIT CODENAME
My Custom Wallpaper Picker
Francisco's Milestone 2 Kernel Is Included In Rom CREDIT TO FRANCISCO FOR GREAT KERNEL
Removed Unicorn Live Wallpaper
Removed Donation Stuff In Rom. You can feel free to donate to them http://rootzwiki.com…-toro-build-28/ if you would like to!
Some Others I More Likely Forgot.
Enjoy
Codename 1.5.5 UPDATED 3-23-12
Include Wallpaper Picker From My Soon To Be Rom With Custom Wallpapers!
Removed Stat Notify Voicemail
Fixed Incoming Call Hopefully
Liquid V1.0
Made Nav Bar Smaller
Optimized Dial Letters On Dial Pad From Dull White To White
Lockscreen Clock Is Small For Now But Centered
All Lockscreen Clocks Are Centered In Password, Pin, And Etc
Blue & White Lockscreen Option
System Voicemail Stat Animation Added
Keyboard Is Separate Again For Download
Ring On Lockscreen Is Modded A Little Smaller For Comfort
Some Other Adds!
—————————————————————————————————————————————————————


Aokp 28 FULL ROM OVERLAY WITH MY MODS AND TESTING FOR MY USE!
Aokp 28- Download Rom
Gapps- Download Gapps Credit to Roman
Themed Gapps- Download Themed Gapps Updated 1-9-12 Play Store Updated! Google Music, Gtalk, Email, Market, & More. PLEASE UNINSTALL UPDATED MARKET IF YOU HAVE IT THEN INSTALL TO GET THE NEW PLAY STORE!
INSTRUCTION
Download Rom & Flash
Download Gapps & Flash
Once Gapps Are Installed, Let Apps Load Up & Open Gmail, Gtalk, Market & Let Them Sign In!
Download Themed Gapps & Flash
WILL GIVE FULL CREDIT TO WHOS TOMORROW AND ADD THIS IN DEVELOPER SECTION!
Enjoy!
Codename 1.5.5 UPDATED 1-23-12
[color=blue]Liquid V1.0
Quote
For keyboards simply download the file instructed and flash on top on theme. You must be on the proper gapps with no other mods or else it will not work. If that file is not working or applying try the other one it could work. They are picky right now due to apk tool. Im sorry. You could also use root explore and delete your stock one and replace it with the themed one.
There is a bug with the ics and white keyboars right now and i have no clue why. It breaks the backspace or forward with volume key. If that bugs you use the full themed keyboard it works fine.
I do not wanna hear about the keyboards anymore and theres more then enough information on installing them now. You guys can help each other out if need to. There is nothing wrong with them if applyed the correct way. Enjoy!
Quote
Credits
Trap624- Big thanks to Travp624 for sharing his inverted apps and letting me mod them to my liking. Inverted Contacts, email, Market, And Gmail. Really appreciate it he does great work!
Atticus182- Thanks for gathering some of the wallpaper and letting me share it with you guys.
JaeKarr99- For letting me put his bootanimation into the theme!
Jack01- For testing for me and sharing some wallpaper he found.
Tgwaste or Santacruzdz- Not for help but for the modded Mms.apk to look thru for the divider removal! Whoever figured it out, much thanks!
Roman- For an awesome rom and source to build and theme off of!
Jairomeo- For letting me use some of his wallpaper for my wallpapar picker. Much Thanks!
If i have forgotten to mention you please notify me in pm, I had to redo the whole op a little bit ago and I might have missed some. I believe I got it all!
Donate If You Feel The Need To Show Appretiation
Edited by gsxrdon, Yesterday, 04:29 PM.