gedeROM – TRUE FULLSCREEN MODE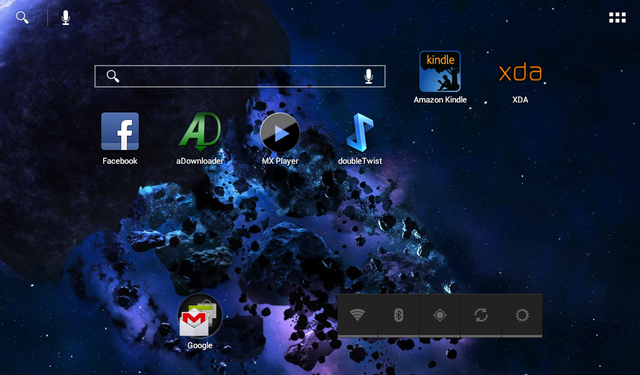 Disclaimer
I AM NOT RESPONSIBLE FOR ANY DAMAGE OR DATA LOSS! FLASH AT YOUR OWN RISK!
After spending alot of time building the new 3.0 kernel aswell as CM9, I feel that we've come to a point where I could dish out a proper ROM with some sweet features!
Features:
Fullscreen mode(show/hide status bar)
Kernel based on Hashcode's 3.0 kernel with several new governors!

Increases battery life significantly!

Overclocked to 1.2GHz
Android 4.0.4
Beats Audio
Modified build.prop

Most Gameloft games working
Decreased powerconsumption

Reworked CM9 bootanimation(60 fps)
Apex/Trebuchet launcher.
SystemUI tweaks (Volume slider, removal of flightmode/bluetooth/notifications)
Custom hosts file(Blocks ads)
Several new battery-icons
Removed most non-core apps
Gapps included
Thanks
JackpotClavin – For his ROM-building tutorial
Hashcode – For his hard work on the 3.0 kernel
Instructions
NOTE! ONLY FLASH USING TWRP!
Download .zip file
Place on sd-card
Reboot in recovery
Factory Reset
Wipe Dalvik Cache
Flash .zip file
Reboot and enjoy!
Click Thanks!


Download
7-5: http://d-h.st/iud 133.48 MB
Old versions:
3-5: http://d-h.st/Ac7 131.77 MB
28-4: http://d-h.st/270 124.70 MB
27-4: http://d-h.st/BaO 119.98 MB
25-4: http://d-h.st/w5M121.45 MB
Removed apps:
3-5: http://d-h.st/RTr 14.79 MB
Bugs
Most 3.0 kernel bugs. Refer to http://forum.xda-developers.com/show….php?t=1591850
IMPORTANT: Remember to power off your Kindle by holding down the power button for 10 seconds. A bug in the kernel makes the backlight stay on if you shutdown through the menu.
Changelog
7-5-2012 Version 1.25
Fixed "Reboot to Recovery", now fully functional! (Requires FFF1.4)
Fixed force close when going to Settings->About Tablet->Status.
Changed USB footprint to match that of the stock ROM. This should fix most adb problems. If you still have trouble connecting through adb, see this post: http://www.jayceooi.com/2011/12/13/h…db-usb-driver/
Updated wlan-libraries. This *should* improve general stability of the wifi.
Removed "adb enabled" notification.
Added a new battery-icon option(Truly fitting the ICS style!)
Can be enabled in settings. The name is ICSCircle.

- Thanks to atraperegrinus for suggesting this sweet look 
3-5-2012 Version 1.2:
Major patch
Fullscreen mode! You can now show/hide the status bar by holding the power button and clicking a button! See http://forum.xda-developers.com/show…&postcount=373 for screenshots!
Ported several new CPU governors to Hashcode's kernel. Default governor is now OndemandX at 1.2GHz – should improve battery life!
Other governors for testing:
Smartass V2
InteractiveX
For more info, see http://forum.xda-developers.com/show…&postcount=378
New custom circular battery icon! Can be selected by going to settings->system->status bar-> battery status style. Nothing changed about the normal icons.
New build.prop tweaks: Disguises the tablet as a Galaxy Nexus when browsing for apps. This should allow for new games to run on the KF. (Tested on Dungeon Hunter 3 and Asphalt 6 HD)
Users running on FFF1.4 can now reboot into recovery(Thanks Hash!)
Removed flightmode from powerdown-menu.
_____________
28-4-2012 Version 1.15:
Small bugfix patch
Running on Hashcode's latest kernel.
Default CPU clock is 1008MHz, can be overclocked in settings to the usual 1.2GHz.
Volume-slider now controls the actual volume, and not that of notifications.
Newest Gapps included – should fix any problems with Play Store, purchases, etc.
Bluetooth.apk included for use with OTG.
Trebuchet launcher included, choose between Trebuchet/Apex at first boot.
27-4-2012 Version 1.1:
USB Mass Storage is now working properly – had to rewrite/merge the custom SystemUI with the newest CM-version.
Fixed the size of the bootanimation.
Removed the custom Play Store – was causing too many problems.
Changed default launcher to Apex – Same simple design, but with loads of customization available!
Included LiveWallpapers and Email apps by popular demand, if you are missing any of the other apps that I have removed, download the "removedapps.zip" and install it.
25-4-2012 Version 1.0:
Initial ROM!
__________________